GVD ACADEMY
Why GVD
ACADEMY?
Because:
I'm looking for a Divemaster Training Program that will give me more than just a certification – from people who are dedicated to preparing me for actual success in the diving industry.
I'm not a diver yet, or I don't have all the prerequisites to start the Divemaster program, but that's my dream! I'm looking for a Fast Track Program to coordinate my courses and enrich my training with my professional future in mind.
I want to be a better diver! I'm looking for professional training in one or more Diving Specialties from instructors who use those specialty skills every day.
Divemaster Training
Program
Are you already a Rescue Diver? Do you dream of a career meeting people and showing them the wonders of the underwater world? Launch your new lifestyle and become a PADI Divemaster with us!
Our DMT Program is a full-time 3-4 week program designed to create capable and confident diving professionals. Academy DMT instructors are dedicated specifically to your training, and use their substantial experience to deliver in-depth education that goes well beyond the minimum required for PADI Divemaster certification. You can expect:
• 6 Days per week of theory, pool, cenote and ocean training.
• Chances to practice with real divers in one of the most popular (and fun!) diving schools in Playa del Carmen.
• The option of adding discounted dives as necessary for you to reach the minimum 60 required for certification.
$1280 USD
(Includes course + crew pack)
CONTACT US ABOUT DISCOUNTS
FOR MULTIPLE STUDENTS!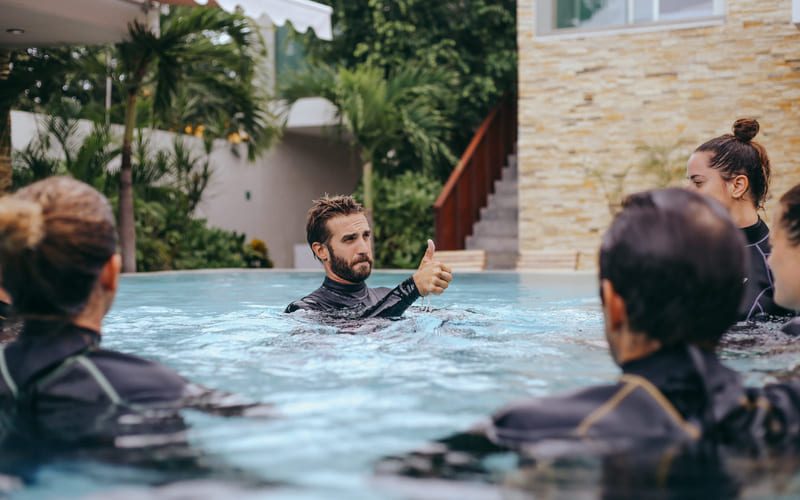 Fast Track Program
Whether you've never dived before or have 1000 dives, we have a program to prepare you to meet the prerequisites of the Divemaster Training Program.
We often meet people who have made the decision to become a divemaster, but don't yet meet all the prerequisites for the PADI Divemaster Course. In this situation, GVD Academy is happy to put together a discounted package of diving and training that based on your current experience! You can expect: • Included PADI courses (for those with no prior or equivalent certifications):
• Open Water Course
• Advanced Open Water Course
• Enriched Air (Nitrox) Specialty Course
• Emergency First Response Training
• Rescue Diver Course
• Divemaster Course
• For those with prior certifications, packages/prices are adjusted accordingly.
• Packages include any additional dives needed to reach the 60 required for PADI Divemaster certification.
Specialty Training
Are you interested in expanding your skills in a specific area of diving? We have instructors who absolutely love making better divers by teaching advanced skills!
PEAK PERFORMANCE BUOYANCY
(1 DAY/2 DIVES)
250
USD
Use less air and feel more coordinated in the water! Spend time in a beautiful cenote fine tuning your weight requirements, diving position, buoyancy, and finning techniques.
BOOK NOW

DEEP DIVER
(2 DAYS/4 DIVES)
FROM 330
USD
Extend your depth certification to 40 meters – Learn advanced skills in managing the challenges of diving to this depth. Choose from 4 reef dives, or 2 reef dives and 2 deep cenote dives.
Reefs: $330 USD
Reefs + cenotes: $430 USD
BOOK NOW

ENRICHED AIR (NITROX)
(1 DAY/2 OPTIONAL DIVES)
FROM 150
USD
Would you like to spend more time in the water on deeper dives? Get certified to safely use oxygen mixes from 22% to 40%.
Course only: $150 USD
Course + diving: $230 USD
BOOK NOW

WRECK DIVER
(2 DAYS/4 DIVES)
330
USD
Learn to explore hidden spaces in an underwater wreck! This advanced certification teaches skills and safety procedures required to explore beyond normal limits in this unique type of overhead environment.
BOOK NOW

SIDEMOUNT DIVER
(2 DAYS/3 DIVES)
550
USD
Would you like to take a step towards technical diving? Learn how to dive using two tanks in a side mount configuration while also experiencing our famous local cenotes!
ASK US ABOUT COMBINATION PACKAGES AND DISCOUNTS
FOR MULTIPLE STUDENTS!
**ADD NITROX TRAINING TO ANOTHER SPECIALTY FOR $65 USD**